Program Schedule
2016-2017
2015-2016
2014-2015
2013-2014
2012-2013
2011-2012
2010-2011
2009-2010
2008-2009
2007-2008
2006-2007
2005-2006
2003-2004

Past Programs/Photos

Shows & Events

Past Programs/Photos

May 17, 2008
Mid-Nineteenth Century Toys
Program By Lorraine Danischewski

Costume historian and independent historical consultant, Lorraine Danischewski, treats us to a presentation on antique toys from 1850-1870. We will be privileged to see both antique and reproduction toys from Lorraine 's own collection.

May 17, 2008 Program Report by Debbie Diaz

Lorraine Danischewski, a historical costume consultant, became interested in historic reproduction toys when she got involved with Historic Richmond Town, a living history village and museum complex located in Staten Island, NY that depicts life of early settlers from the 1690's to the Civil War period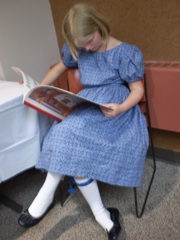 of the 1860's. As part of her historic reproduction stories, she dressed the part and showed children what the toys and games of the 1860 and earlier were like. Since toys are more fun when you can actually play with them, she started collecting reproduction toys of the era. An experienced seamstress, she dressed her children in clothing appropriate to the era. Her eight year old daughter, Julia, who helped demonstrate the toys, was dressed like a girl of 1860, with all the undergarments, complete with handknit garters to hold up her stockings! Would she make a to-die-for doll or what!?
Julia enjoying favorite past time, reading! The reproduction theatre, "Ali Baba and the 40 Thieves" is available from http://raggedsoldier.com .

Picture perfect and ready for a portrait painting or doll!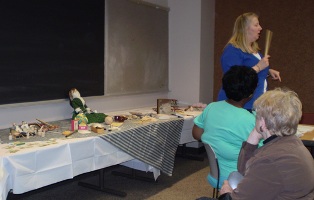 Many of the fun toys demonstrated were simple, wooden, and handmade, since these proved to lend more imagination and possibilities for play than the fancier dolls and toys that were too fragile to handle. Per a quote in the February 1861 issue of the Godey's Ladies Book in reference to children's toys, "children should never abuse them... toys become helps in education... they must be taught how to play with them..." The article further points out that most children destroy toys because they don't see what else they can do with them. Lorraine commented on the reality of that statement for today's toys which are often passed over in short time for simpler objects, such as a plain cardbord box. It is the simplest of toys that lend more imagination and possibilities for a child, whether it be a doll that can be redressed over and over again or a wagon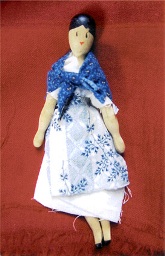 that can be loaded in a myriad of possibilities. Her daughter Julia had just dressed a little reproduction wooden penny doll just moments ago in the hallway while waiting to set up for the program. Lorraine pointed out that although elastic was invented in the 1850's, only today's reproductions use it. The earlier dolls had pin joints. Daughter Julia used bits of scrap fabric to quickly dress her little doll. She obviously possesses her mother's talents with costuming. She had fun doing it, and the doll looked great! Even the poor orphan Cosette in "Les Miserables" by Victor Hugo, illustrates the importance of encouraging play as a means of developing social and mothering skills as quoted by Harper's Monthly Magazine in 1861:
" The doll is one of the most imperious necessities, and at the same
time one of the most charming instincts of female childhood. To
care for, to clothe, to adorn, to dress, to undress, to dress over again,
to teach, to scold a little, to rock, to cuddle, to put to sleep, to imagine
that something is somebody---all the future of woman is there. Even
while musing and prattling, while making little wardrobes and little
baby clothes, while sewing little dresses, little bodices, and little
jackets, the child becomes a little girl , the little girl becomes a great
girl, the great girl becomes a woman. The first baby takes the place
of the last doll."
Prior to this mid-century era, children were expected to behave as little adults. The importance of play as an educational and developmental tool was written about in many publications. Elizabeth Lady wrote in the 1860's that "a rag doll will give far more pleasure than an effigy of wax or plaster...", referring to the often expensive and stiff dolls that were not meant for children's play and which discouraged frequent dressing, undressing and handling. Rag dolls made of tubes of rolled up rags of cloth that were knotted and tied off at the ends and then dressed in rags were also called "church dolls" because when dropped on the floor, they would make no noise.


Among the home-made toys covered were the Ball and Cup, the Flying Machine, the Spindle Top, Wooden Hoop and Stick, Graces (another hoop game, but meant for two), Ring Toss, Battledoors and Shuttlecocks (similar to Badminton), Scrap Blocks, and the Cloth Puzzle Ball or Clutch Ball, Toy Theatres (which were trendy in the 1830's), and the Whirligig (either metal or wooden disk). These reproduction toys are available from http://raggedsoldier.com, and can be viewed here.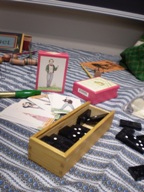 Manufactured toys that could be bought in a store came after the Civil War, except for certain board games like Checkers which had been available for quite some time. Printed games included Conversation Cards (which we all got to play, intended for adults, and I have to get a set of!), Myriorama, and a number of books designed to encourage reading, playing, gardening and other hobbies. Among them were "The Boy's Own Book" in 1829 followed by the "Girl's Own Book"in 1834, the "American Boy's Handy Book" followed by the "American Girl's Handy Book" and the popular "Beadle's Dime Series" which covered many hobbies. Croquet was another popular store-bought game which came to America in 1864 after it had been trickled down from the upper class to the lower classes of society.
Repro parlor and manufactured games of the 1860's.

"Book of Croquet" was part of a popular series of books that cost only a dime.
Lorraine concluded by telling us about the origins of the raffle doll. Established to raise funds for soldiers during the Civil War, the Sanitary Commission Fair of 1861 held in Brooklyn sold tickets for $1.00 each for a chance to win very expensive dolls with vast wardrobes and accessories. Flora McFlimsey was such a doll. Lorraine made a beautiful reproduction of the clothing from the 1861 original and a doll to suit in cloth. Elizabeth Stewart Clark offers a china reproduction of a Flora McFlimsy doll, complete with patterns for her complete wardrobe and accessories via her website, http://www.elizabethstewartclark.com. A wonderful article by Virginia Mescher with photos of these Civil War fundraising dolls and their wardrobes is available at: http://www.raggedsoldier.com/fund_raise_doll.pdf
Repro 1861 Flora McFlimsey cloth doll and costume made by Lorraine.

Beautiful embroidered features and eyelashes!
Lorraine lives in Staten Island, NY, in an 1859 house from which she does historic recreations periodically, she travels and does lectures on historic costume and customs at various Staten Island museums and venues, as well as nationally, and as a historic costume consultant, she has worked with our very own Irene Hesse and American Girl to assist with the authentication of the American Girl Historical Characters. Thanks, Irene, for inviting Lorraine to speak on toys!!! As Irene mentioned, we are a club that from its inception, collected toys as well, so it's nice to bring back an aspect of this which often gets overlooked because of our interest in dolls. Hey, those dolls need something to play with, right? And after this meeting, I felt like going out and playing some of these games myself. So nice to reminisce...

The display and variety of toys, along with Lorraine's informative talk and assistance from her charming daughter was a delight indeed! Thank you Lorraine and Julia!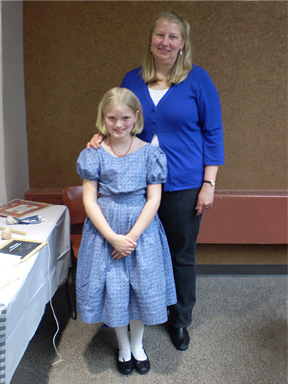 Julia and Lorraine
Lorraine can be reached at Ldhistoryconsult'at'aol.com* (substitute @ for 'at').

Related Items Displayed By Members

Susan Horwich with wood swimming toy

Unknown circa, legs and arms move
The photo of wooden penny doll dressed by Julia was taken by Lorraine. Remaining photos were taken by Debbie, courtesy of Nancy Slattery's camera. Thanks, Nancy!


Monthly meetings (See Program Schedule published each Summer)
Fashion Institute of Technology
8th Ave and 27th Street, Rm. A-802
New York City

Business Meeting 11:00 am
Lunch 12:15 pm
Program 1:15 pm

For questions about becoming a Member
or to attend a meeting, contact us!

For general questions,
Email: nationaldollclub'at'gmail.com*

*In an effort to reduce spam, we will not publish entire working emails: please substitute @ for the 'at' in above email addresses. Thank you.

We are a New York City based non-profit doll club organized expressly for charitable and educational purposes related to doll collecting.

EDUCATION • RESEARCH • ENJOYMENT